School Programs
---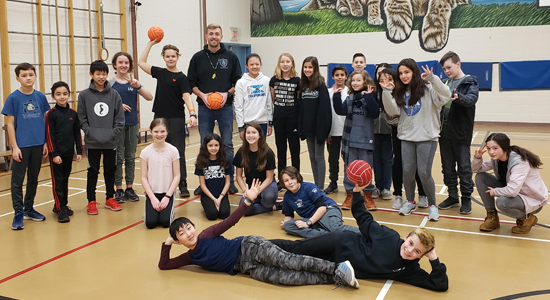 Elementary School Introduction to Water Polo Program & Field Trip
The Surrey Water Polo Club is pleased to offer our Introduction to Water Polo Program to elementary schools in Surrey. This program allows students a unique, low cost, safe opportunity to try a fun and exciting sport. The program features two components:
1. In-School Introduction to Water Polo
Our head coach will come to your school and provide a 45 minute presentation that explains the game, the rules, and game strategy.
The students will then move to the gymnasium for a 40 minute hands-on session. The students will learn the basics of handling a water polo ball including passing and shooting.
We recommend this session for schools that have not participated before. Once students have taken this session they do not have to take it again in subsequent years.
2. Two Pool Sessions
Both pool sessions include 1 hour of pool time and 30 min of dry land warm up (held during regular school hours).
Parents and/or teachers do not need to get in the water.
During the first session, every student will have their swimming ability evaluated by City of Surrey lifeguards. This evaluation will take place in the shallow end of the pool. The lifeguards will decide if a student needs to wear a flotation belt or life jacket in the deep water. No student will be excluded based on swimming ability.
Each session will consist of swimming strokes, "eggbeater" water treading technique, ball handling, and a scrimmage game.
Pool sessions are held at the City of Surrey facility assigned by their Recreation Department pool facility managers (you will be asked for your pool preference).
---

High School Water Polo Program & Field Trip
Surrey Water Polo Club is happy to provide water polo field trip opportunities for grade 8 to 12 students. For more information please contact the School Program Manager.
If your school is interested in these programs please email generalmanager@surreywatrepolo.com